Janell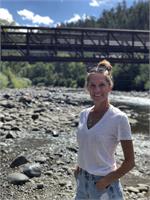 Janell has been practicing Ashtanga Yoga for 11 years. She completed Valerie Schneiderman's teacher training program in spring of 2012 and have been teaching at The Yoga Shala and privately since then. Janell loves being a part of the practice community. Community provides a place to go each and every day where people are seeking more balance and peace within and doing the work to better themselves so they can then go out into the world and be of service to others.
RYT-200
Janell instructs the following:
Mixed Level class is open to All Levels.




The Primary Series of Ashtanga Vinyasa Yoga is also called Yoga Chikitsa, or yogic cleansing program. Utilizing Breath/Bandhas, Postures and Drishti, students are led through a continuous Vinyasa series that cleanses and detoxifies the body while creating strength and flexibility. In this class, we will move through Half of the Seated Primary Series Postures, based on the level of students in the room.




These classes are an opportunity for students of all levels to come together and explore a wide range of yoga postures in a varied sequence that is based on the tristhana (breath/bandha, dristi and asana) of ashtanga practice.